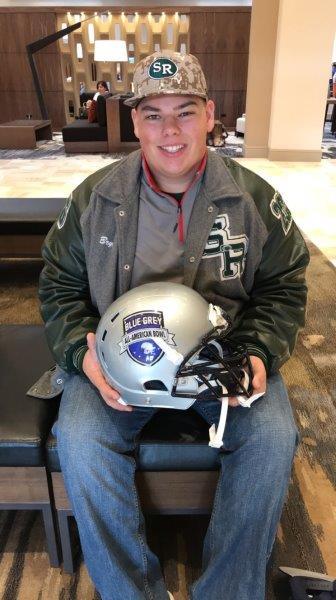 Bryce
Bryce went to a National Combine to be selected for this game. This combine started out with over 44,000 football players nationwide. Bryce then was invited to the Regional combine of over 7800 players where he was selected to play in the 6th Annual Blue/Grey High School All-American Bowl.
The game was played at AT&T Stadium on Monday, January 22nd. The Blue Team that Bryce was on won the game 31-17.
It was truly an honor for Bryce to be selected to play in this game and represent Scurry-Rosser HS and Scurry-Rosser ISD as a whole. There were athletes from 31 states at this game with well over 40 Division I players on the rosters. Bryce did an outstanding job during the game playing left guard and showing himself capable of playing with some of the best players in the country.
The Scurry-Rosser ISD Administration, Teachers, and Coaching Staff are extremely proud of Bryce and all that he has accomplished in his high school career for the Wildcats!